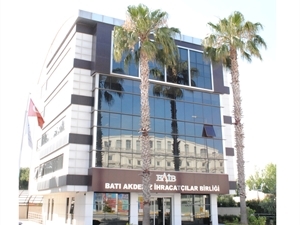 There are 61 Exporters Associations functioning under 13 General Secretariats in Turkey. The members of the Associations are exporters. Turkish Exporters Assembly (TIM) is the umbrella organization of the Exporters Association General Secretariats and all exporters in Turkey.
West Mediterrenean Exporters Association General Secretariat (BAIB) was founded in 1968 and it has become a 'Regional Association' as of 2011.
Our Association is responsible for cities of ANTALYA, ISPARTA and BURDUR.Exporting companies which are registered and functioning in any of these cities are obliged to be member of West Mediterranean Exporters' Association.
Export Sectors which BAIB Provides Services
BAIB offers services to its exporter members functioning in 25 sectors listed below.
Confection

Textile

Leather Industry

Carpet

Fresh Fruits and Vegetables

Cereals

Livastock

Wood

Mining

Electrical - Electronics

Ferrous and non-Ferrous Metals

Chemicals

Cement

Olive - Olive Oil

Dried Fruits

Vehicles

Tobacco

Hazelnuts

Fruit and Vegetable Products

Ornamental Plants and Products

Machines and Machine Components

Precious Ores And Jewellery

Iron and Steel

Ship and Yacht

Defence Industry

Air Conditioning Industry
The Sectors which have the highest volume in our region's export are mainly; mining products, fresh fruits and vegetables, chemicals, wood and ferrous&non-ferrous metals.
Services Provided by West Mediterranean Exporters Association;
To increase export-oriented production and to carry out activities in order to sustain production diversity demanded by foreign customers,
To organize seminars, panels and meetings,
To monitor and announce the data related to production and exportation, to inform our members about our rivals and pricing indexes in foreign markets,
To gather and share all kinds of information about target markets and rivals which our exporters may need,
To provide contact between our members and foreign delegations visits Turkey, and to invite representatives of potential foreign customers to our country,
To bring together different export sectors by organizing events such as meetings, seminars and panels about contemporary issues and enable exporters to exchange their information and experiences with each other,
In order to enhance our Exporters' position in existing markets and make them enable to enter new markets, Exporters Associations organize national participation programmes for international fairs held in abroad; and inform its members about important fairs which are deemed to be beneficial to participate.