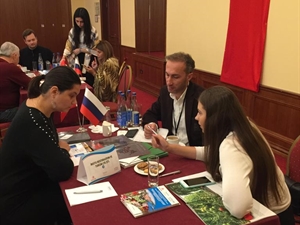 West Mediterranean Exporters Asssociation (BAIB) conducted activities, within the scope of the "Food Sectoral Trade Mission", in Russia between 22th Sept and 26th Sept. in order to increase the region's exports and make observation.
Chairman of the Board of BAIB Mr. Hakki BAHAR, Member of the Board of BAIB Mr. Süleyman TUNCER, Secretary General Mrs. Güliz AKEL ÇETINKAYA, Senior Commercial Counsellor to Moscow Mr. Alper ERITEN, Commercial Counsellor to Moscow Mr. Murat Haydar Öztürk, TIM Delegate Mr. Murat GÜNGÖR accompanied the Delegation which consists of representatives from 11 Turkish Companies.
The program of the delegation involves facility and company visits, World Food Moscow Exhibition visit and B2B meetings. During the B2B talks, Turkish Exporters had the oppurtunity to meet with around 20 Russian firms.
Chairman of BAIB Mr. Hakki BAHAR stated "As BAIB delegation, with our team of experts, we made visits, observation and held meetings in Italy and Russia concurrently. Our aim is to export more of our region's products to Russia. In this scope, we held important meetings. As BAIB, we will continue Trade Mission programs in abroad in the upcoming period to develop the region's exports.
---