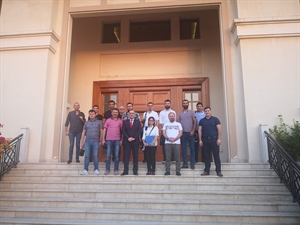 In the scope of the International Competitiveness Development Project, West Mediterranean Marble Cluster had been to Qatar between 3th and 7th of November 2019 to increase natural stone exports and make observation on the sector. Projects, Foreign Relations and Board of Management Department Manager Mrs. Nedret TOSUN accompanied the delegation that consists of 11 representatives from 8 project participant companies. In the framework of the program, business meetings were held in Doha/QATAR.
On the first day of the program which lasted for three days, visits were made to Marble Factories and Facilities. During these visits, our delegation took important steps in making new business connections. BAIB delegation also visited the Embassy of the Republic of Turkey in Doha's Diplomatic Area. During the visit, Turkey's Ambassador to Doha H.E. Fikret ÖZER received the BAIB delegation at his office. In the scope of Embassy visit, Turkey's Doha Commercial Counsellor Mr. Burak GÜRESÇI informed the BAIB Delegation about Qatari Market.
On the second day of the program, B2B meetings were held with participation of more 15 Qatari company representatives. Within the scope of B2B meetings, our Doha Commercial Counsellor Mr. Burak GÜRESÇI also visited and extend his supports to our companies during the organization.
On the third day, our delegation continued to visit companies and facilities and made negotiations with the buyers with the purpose of exporting Marble products of our region to Qatar.
---