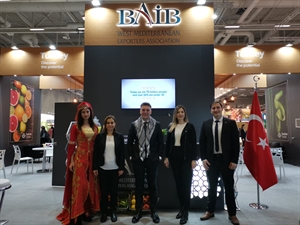 West Mediterrenean Exporters Association (BAIB) participated in Fruit Logistica Exhibition that was held in Germany's Capital Berlin between 5th and 7th of February. To promote produces with the intent of increasing fresh fruit and vegetables exports of the region, BAIB took its place in the exhibition with its own booth as it did in the previous year.
President of the BAIB Management Board Mr. Hakki BAHAR, Vice President of BAIB Mr. Abdullah BULUT, Members of the Board Mr. Ismail ÖZANDAÇ, Mr. Süleyman TUNCER, Mr. Vahit UÇAK, and Member of Inspection Board Mrs. Günseli ÇOBANOGLU provided information to foreign visitors regarding our region's export produce and export potential.
This year, Director of Trade Ministry's West Mediterranean Region Mr. Abdullah ÖZGÜR, Director of Agriculture and Forestry Ministry's Antalya Province Mr. Gökhan KARACA and Director of Antalya Agricultural Quarantine Mr. Ekrem ÇETIN also visited the exhibition with BAIB delegation.
Besides German buyers, buyers from different parts of Europe visited the BAIB booth and received information about our produces, companies and the region. Turkey's Commercial Counselors to Berlin, Mr. Abdullah SOYLU and Mrs. Berrak BILGEN BESERGIL and Foreign Trade Expert from Trade Ministry Mr. Atalay AYDOGDU visited BAIB stand. A cocktail event was also held at the BAIB booth for the visitors. At the cocktail, guests were presented with Turkish delicacies.
---