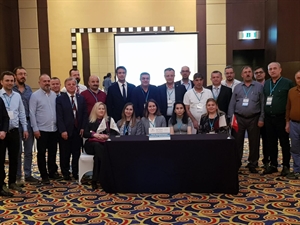 In the scope of the International Competitiveness Development Project, West Mediterranean Food Cluster had been to Qatar between 24th and 28th of November 2019 to increase food exports and make observation on the sector. Member of BAIB's Board of Management Mr.Süleyman TUNCER and Mr. Vahit UÇAK, Member of Board of Supervisors Mrs. Günseli ÇOBANOGLU and Turkish Exporters Assembly (TIM) Delegate Mr. Murat GÜNGÖR accompanied the delegation that consists of 20 representatives from 12 project participant companies.
On the first day of the programme, the delegation visited food factories and facilities in the country. The delegation took important steps to establish business contacts in thee meetings that were held during the visits.
On the second day of the program, B2B meetings were held with more than 40 company representatives from 28 Qatari companies. On the last day of the programme BAIB delegation visited the Embassy of the Republic of Turkey in Doha's Diplomatic Area. During the visit, Ambassador Mr. Fikret ÖZER received the delegation of BAIB in his office. Subsequently, Turkish Commercial Counsellor to Qatar, Mr. Burak GÜRESÇI, provided information for the BAIB Delegation about the Qatar Market.
---