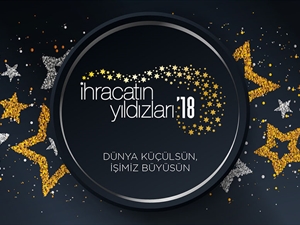 West Mediterranean Exporters Association (BAIB) have brought Business and Government representatives from the cities of Antalya, Burdur and Isparta together at the "Stars of Export" award ceremony.
The award ceremony has taken place at Akra Barut Hotel, Antalya. Companies were ranked according to their export volume in 2018. The first 10 companies with the highest export volume from the Fresh Fruit and Vegetables, the Mining and Mining Products and the Chemical sectors and the first 3 companies in other 23 sectors were awarded at the ceremony. In total, 102 exporters from 26 different sectors got prize.
Mr. Adnan YILDIRIM, General Manager of Turkish Eximbank, Mr. Nurettin ATES, Deputy Governor of Antalya, Mr. Hakan TÜTÜNCÜ, Mayor of Kepez Province, Ümit UYSAL, Mayor of Muratpasa Province, Prof.Dr. Ismail YÜKSEK, Rector of Antalya Bilim University, Prof.Dr. Ibrahim DILER, Rector of Isparta Applied Science University and Members of the Grand National Assembly of Turkey Mr. Atay USLU, Mr. Abdurrahman BASKAN, Mr. Çetin Osman BUDAK, Mr.Aydin ÖZER, Mr. Rafet ZEYBEK and representatives from various government institutions, chairmans of different Business Organizations, NGO's and company representatives have attended the event.


In his speech at the event, President of Board of Directors of BAIB, Mr Hakki BAHAR congratulated exporters and wished them success in their business. Underlining importance of export in Turkey's Economic development, Mr.Hakki Bahar said "Our companies are precious for the country's and our region's economy. In a time of fierce international competition and trade wars, they enhance our region's economy with export. I present my gratitudes to them on behalf of the Board of BAIB.''