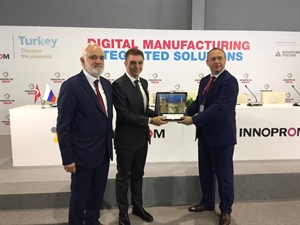 West Mediterranean Exporters's Association, BAIB, continues its international efforts to increase the export and improve technological integration of Antalya, Burdur and Isparta provinces with the World. Within this context, BAIB participated in INNOPROM -International Industrial Fair- which took place in Yekatarinburg/RUSSIA and signed two cooperation protocols with a professional association established by grand industries of the region. With the protocols, it is aimed to pave the way for cooperation between Russian and Turkish Businessmen and carry out common project and initiatives. In the exhibiton, BAIB was represented by President of the Board of Directors Mr. Hakki BAHAR and Members of the Board Mrs. Hatice ÖZ and Mr. Süleyman DURAN.
The Protocols were signed with JSC -Middle URAL Development Company- at the exhibition. Signatory parties were represented by President of BAIB's Board of Directors Mr. Hakki BAHAR, Director General of JSC and Moscow Entrepreneurs Association's Turkey Representative Mr. Abdurrahman BAYTAS. After providing information about Protocols, President Mr. Hakki BAHAR said, "As it is known, we are trying to further increase our Fresh Fruit and Vegetables and Mining Products export which are our region's main exporting sectors. At the same time, we aim to increase exports in all sectors of our region and to develop manufacture and exports of high value added industrial products. That's why we have participated in INNOPROM".
President BAHAR also stated, "We signed two different protocols with the Middle Ural Development Company during the exhibition. The first protocol we signed aims to improve commercial cooperation, to cooperate in investments, to organize joint projects and initiatives in the fields of industry, energy, health, science, technology and trade. In the second protocol, it is aimed to develop cooperation in the development of techno parks and industrial parks. We expect these protocols to be instrumental in further developing the existing technological capabilities of the West Mediterranean industry".
Turkish Pavilion, in the exhibition, was inaugurated by Minister of Industry and Technology Mr. Mustafa VARANK. BAIB, in its booth in the Turkish Pavilion, provided information to the visitors about Antalya, Burdur and Isparta provinces' Industrial Areas, production and export potential. BAIB's booth was visited by Russian industry representatives and industry product suppliers. Deputy Minister of Trade Mrs. Gonca YILMAZ BATUR, General Director of the Foreign Representatives and International Events Department of the Ministry of Trade, Mrs. G. Müge Varol ILICAK and Turkey's Senior Commercial Counsellor to Moscow, Mr. Ferüdün BASER were among the visitors of BAIB's booth.