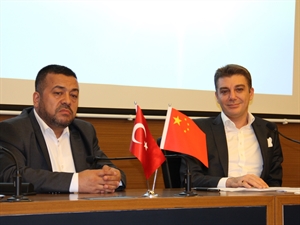 West Mediterranean Exporters' Association (BAIB), have brought Cherry Importers from China and West Mediterranean cherry exporters together in a meeting. Participants exchanged views in the meeting chaired by Chairman of the Board of BAIB Mr. Hakki BAHAR. Importers from China stated that seven thousand containers of cherry is imported from various countries to China, and told that they also want to import cherries from Turkey.
In his speech at the meeting, Mr. BAHAR stated that thanks to its geography and climate conditions, Turkey is a leading cherry producer in the World. He also stated that in the low altitude regions, cherry harvest begins in the early summer while in high altitude regions the harvest continues till the late summer. He also said "China imported 1 Bilion US Dollars value Cherries around the World in 2018. Turkey's cherry exports to China have not reached at a satisfying volume yet."
At the meeting, it is stated that to be able to export Turkish cherry to China, it is necessary to have an agreement, regarding quarantine conditions, similar to the one that is already exist betwen China and Australia. Current conditions make it hard to export Turkish cherries to China. If current quarantine requirements are revised, Turkey's cherry exports to China can increase dramatically.
---